Senior scientific advisor at Ton Duc Thang University elected Fellow of the Australian Academy of Health and Medical Sciences
Ton Duc Thang University (TDTU) would like to inform lecturers, staff, and students that Professor Nguyen Van Tuan, Senior scientific advisor, Vice-Chairman of TDTU's Science and Training Committee has just been elected to the Australian Academy of Health and Medical Sciences (AAHMS). This is a rare honour, an acknowledgment of his outstanding contributions to medical sciences, especially in the field of osteoporosis. Professor Nguyen Van Tuan has spent many years working with TDTU in various roles: Distinguished Professor, Director of Bone and Muscle Research Laboratory, and many other diverse activities, making important contributions to the sustainable development of TDTU.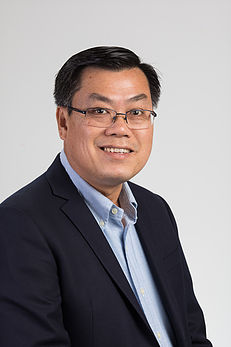 AAHMS is an independent and interdisciplinary academy of 375 Fellows. The Fellows chosen are the scientists with distinguished achievements and exceptional contributions to health and medical science (AAHMS website). Collectively, the Academy provides authoritative and independent advice to the community, industry and governments. 
Fellows of the AAHMS are a highly selective group of scientists who are nominated and elected by their peers, and ratified by the Academy's Council. The process of nomination and election takes about one year. The criteria of election are extremely competitive, and only the best and brightest scientists are elected (AAHMS website). This year, the Academy elected 40 new fellows, among whom 19 were women. The new fellows include prominent scientists in Australian medical science such as Professor Ian Jacob, Vice-chancellor and President of UNSW Sydney. Professor Nguyen Van Tuan is the first Vietnamese person elected to the Academy.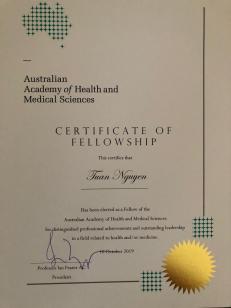 He is a leading osteoporosis scientist in the world. He heads the laboratory of Genetics of Osteoporosis of the Garvan Institute of Medical Research and another laboratory at TDTU. For nearly 30 years, he has made great contributions to this field including evaluation and diagnosis of osteoporosis, osteoporosis genetics, and research on factors leading to osteoporosis and bone fracture. He has had more than 300 publications in prestigious international journals and has been one of the highly cited professors in the field of osteoporosis and medicine.
Professor Nguyen Van Tuan is an Associate Editor of the Journal of Bone and Mineral Research. In addition, he has served on the editorial board of Osteoporosis International, and Journal of Bone Densitometry. Currently, he sits on the Editorial and Evaluation Board of the Journal of the Endocrine Society, JBMR Plus, Osteoporosis and Sarcopenia. He is regularly invited to give lectures at numerous bone-related conferences in the United States, Europe, South Korea, Hong Kong, Thailand, Malaysia, and the Philippines.
In Vietnam, Professor Nguyen Van Tuan has also made important contributions to medicine and research training. He was one of the founding members of the Ho Chi Minh City Osteoporosis Society in 2005, and has served as a scientific advisor since then. Along with the Ho Chi Minh City Osteoporosis Society, he conducted many workshops and training courses for local colleagues. He has ever been a representative of the Ho Chi Minh City Osteoporosis Society attending international osteoporosis conferences. He has been a member of the Organizing Committee of the 16th Asian Endocrinology Congress in Ho Chi Minh City, attracting over 1,500 participants. He also brought international osteoporosis conferences and leading experts in the world to Vietnam. In addition, he helped bring osteoporosis research from Vietnam to the world. He was elected to chair the fourth Pan-Asia Biomedical Science Consortium in Da Nang. Recently, he has been invited to chair the Committee of the Alexandre Yersin Prize for Outstanding Publications in Vietnam.
Over the past 20 years, he has either conducted or helped colleagues carry out medical studies in Vietnam. He has had more than 50 publications representing Vietnam in leading journals in the world. His contributions are not only in Osteoporosis and Endocrinology but also in Agent Orange. He was the first Vietnamese to publish a study on associations between Agent Orange and birth defects in international medical journals, and wrote books in Vietnamese on Agent Orange.
In addition to doing research and lecturing around the world, Prof. Nguyen Van Tuan has also contributed to training of doctoral students in Vietnam. He has supervised 5 PhD students in Vietnam and 10 PhD students in foreign countries. All of his PhD students have been awarded with important and prestigious prizes both domestically and internationally. With his such contributions to medicine and education, he has been conferred many awards by the People's Committee of Ho Chi Minh City, Vietnam Ministry of Foreign Affairs, Medical Association of Ho Chi Minh City, and Osteoporosis Society of Ho Chi Minh City.
Professor Tuan Nguyen is regarded by international colleagues as among the "very top tier" in medical research worldwide. "Tuan is a humble man, he is a lover of the scientific method. He is an educator and mentor whose words are softly spoken, graceful and so true," an eminent professor remarks.
Professor Tuan's election to the Australian Academy of Health and Medical Sciences is not just a testament of his exceptional contributions to medical research worldwide, but also a recognition of his long-standing and distinguished contributions to education and medical science in Vietnam. TDTU is honored and fortunate to have a leading scientist as an advisor and companion throughout the years.
Sincerely congratulate Prof. Nguyen Van Tuan and TDTU.