Experience outstanding quality Finnish education in Vietnam
Students do not have homework. Schools must be places to help children change and improve themselves; The goal of education must be to help students explore the world rather than bring more pressure from test scores. Happy teachers will contribute to changing students' thinking and from that society will change. These are just a few of the biggest differences in Finnish education compared with other education in the world.
When built in Vietnam, how will the Vietnam-Finland International School (VFIS) in Ho Chi Minh City design its program, and how will it select and employ teachers to achieve the goals that give students the best? 
Education program aimed at sustainable development for children, ready to face the future
Being known as the happiest country with the world's leading education, in the Finnish school's curriculum, children are guided and supported enthusiastically and thoroughly; Less time for studying and exams than other countries but with optimal effects, children focus on personal skills, learn how to live cooperatively instead of competitively, and are trained in perseverance and persistence.
Ms. Seija Elina Nyholm, Training Advisor of Vietnam-Finland International School said, "We are consistent with the learner-centered education perspective, every child has the right to learn by way of self-discovering the world through experiences so as to perfect themselves. In the curriculum at VFIS, we help children form global capacities with skills that can adapt to many living environments around the world. All skills and knowledge do not focus on one subject but are taught in all subjects, including: information technology skills, thinking skills, and multiculturalism, so not only reading books, but all kinds of knowledge including digital, business are also taught throughout the program ".
The core values of Vietnam-Finland International School are also in the meaning of the VFIS name: Vitality, Flexibility, Inclusion and Sisu, the qualities and characteristics that are needed for new generation students.
It can be clearly seen that the big difference in the Finnish education program is the assurance of a sustainable future; an important part of VFIS's new curriculum. This was also the greatest desire when Ton Duc Thang University decided to build Vietnam-Finland International School with the aim of helping students know how to adapt and overcome all challenges, before the "uncertain" changes of the future.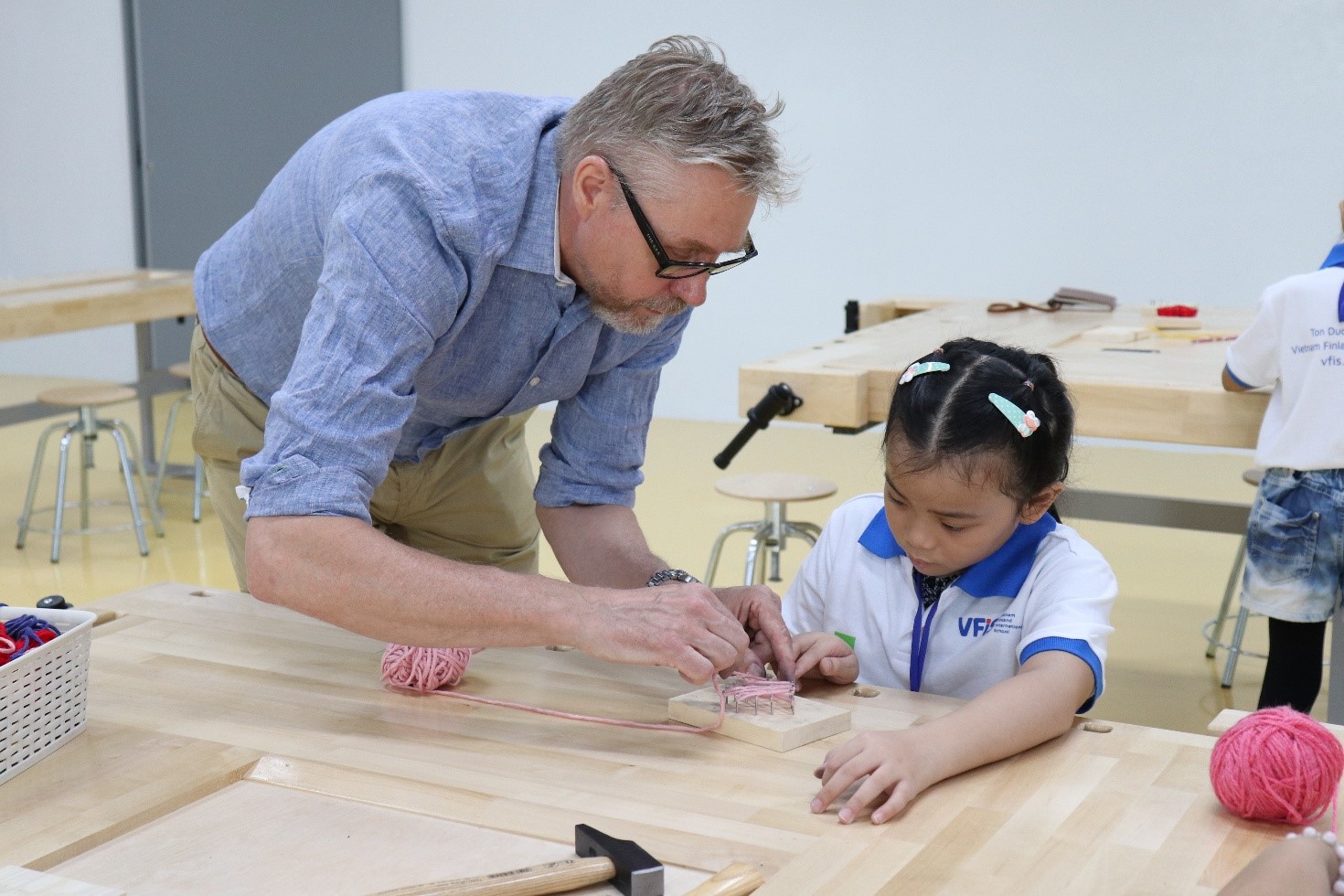 Dr. Nguyen Thi Thu Huyen, Vice President of Vietnam-Finland International School, said, "The recruitment of teachers is a top priority at VFIS because the results of educational activities depend greatly on teachers. Finnish teachers really impressed us, they are always thinking of ways to improve teaching innovation, research more, and offer new teaching methods." All Finnish teachers possess a master's degree in education, and many of them have double-degrees, which helps them to teach both primary and secondary subjects; or teach two different disciplines; or in addition to the main major, they also have more specialized special education. To receive a Master's degree, all of them have to complete research projects, so Finnish teachers have the research capacity to innovate their own teaching methods and design their own daily education programs for students.
Besides Finnish teachers, at the Vietnam-Finland International School, teachers from English-speaking countries and Vietnamese teachers also have diverse educational experience and qualifications. Particularly, Vietnamese teachers and teaching assistants have 6 months of initial additional training before starting their job and one more year of parallel training in the process of working. The purpose of the training is that all Vietnamese teachers will meet international teaching standards.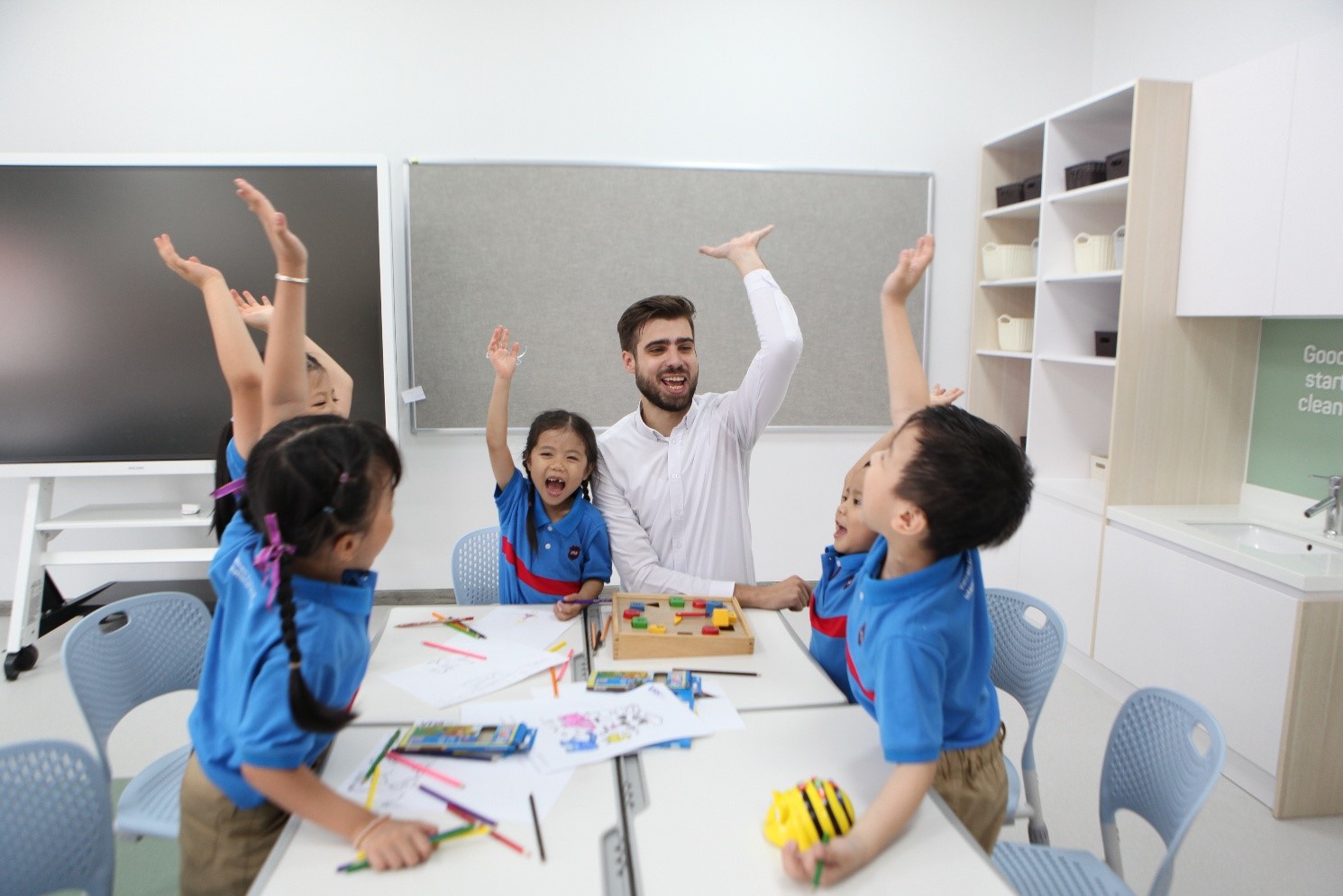 "Vietnam Finland International School respects Finnish values and programs, even though the school is built outside Finland. Students experience the most positive things, and they must feel the joy of going to school. As a result, when growing up, they will be confident people who always feel happy, satisfied with what they do and they have," said Dr. Thu Huyen.
It is for that purpose, at VFIS, besides the high values in Finnish culture as the "Sisu" spirit of perseverance and perseverance to overcome challenges to reach the final destination or the value of "justice" which means to provide equal development opportunities for all students, teachers, and staff of the School, "sensibility": the value of Vietnamese character will be the guideline for all educational activities. When society develops, the industry 4.0 exists, when artificial intelligence - AI technology and robots are gradually replacing many of human activities, each student needs to cultivate the "sensibility" philosophy. Live with affection, love, not emotionless with the humans and the surrounding world. This is not only a characteristic of Vietnamese people but also an indispensable thing in today's superficial world, when people are less and less interested in the emotions of people around them.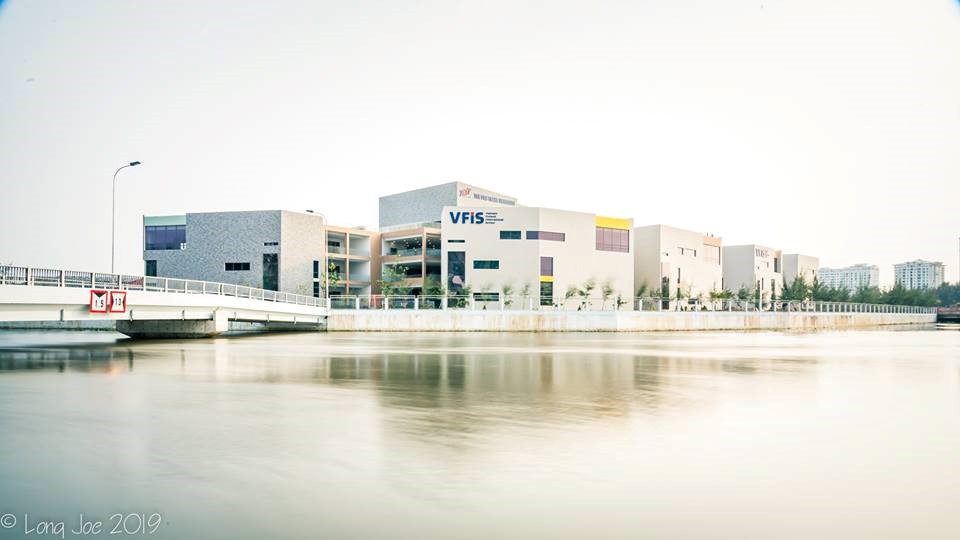 Vietnam-Finland International School is a part of Ton Duc Thang University, also the first Finnish school in Vietnam and Asia.  This marked an important turning point in the cooperation of education and training between the Government of Vietnam and Finland, a country with the general education ranked among the best in the world, with a team of highly qualified teachers, advanced pedagogical methods, based on scientific research foundation. VFIS is proud to have facilities designed just ike a school in Finland, with the orientation of optimizing pedagogical efficiency with an open and flexible learning space, bringing about comprehensive development and happiness for students. Currently, VFIS carries out two educational programs: 100% international program in English and English-Vietnamese bilingual program for students from grade 1 to grade 12.
For more information, contact us at:
Vietnam-Finland International School
01 Street D1, Tan Phong Ward, District 7, HCMC; (inside Ton Duc Thang University, 19 Nguyen Huu Tho, Tan Phong Ward, District 7, HCMC);
Website: vfis.tdtu.edu.vn;
E-mail: admissions@vfis.tdtu.edu.vn;
Fanpage: www.facebook.com/vfis.tdtu.edu.vn;
Hotline: 0903 996 232 – 0944 514 477.