Senior Scientific Advisor of Ton Duc Thang University Recognized in University of Technology Sydney's Medal for Exceptional Research
Professor Tuan V. Nguyen, Senior Scientific Advisor of Ton Duc Thang University, has just been awarded the Chancellor's Medal for Exceptional Research by the University of Technology Sydney (UTS), one of Australia's leading universities. 
This UTS Chancellor's Medal for Exceptional Research "honours the very best research achievements by an individual researcher," or "Crème de la crème". The Medal was awarded to Professor Tuan Nguyen for his lifetime pioneering work at the forefront of osteoporosis research.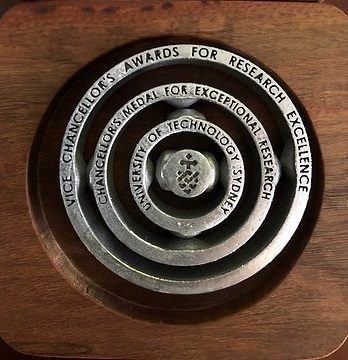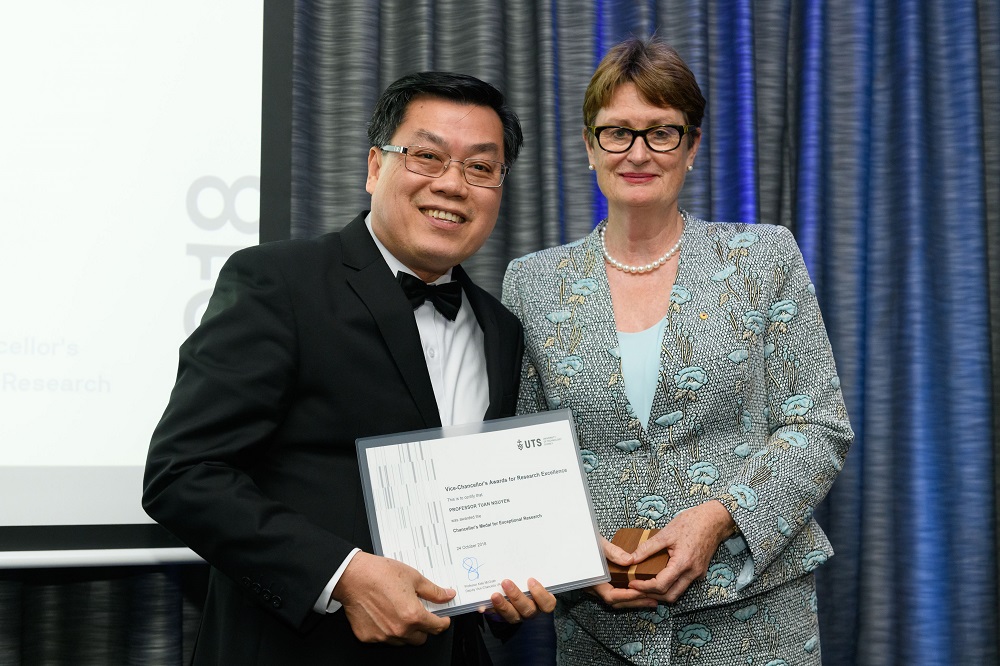 In the remark at the award ceremony, Professor Nguyen said: "I came to UTS almost five years ago with a big plan and burning ambition. Over the past five years, with the help of many colleagues and students, I have realized part of the plan. However, mu ch remains to be done. I want to put UTS name in the map of osteoporosis worldwide through important and transformative research."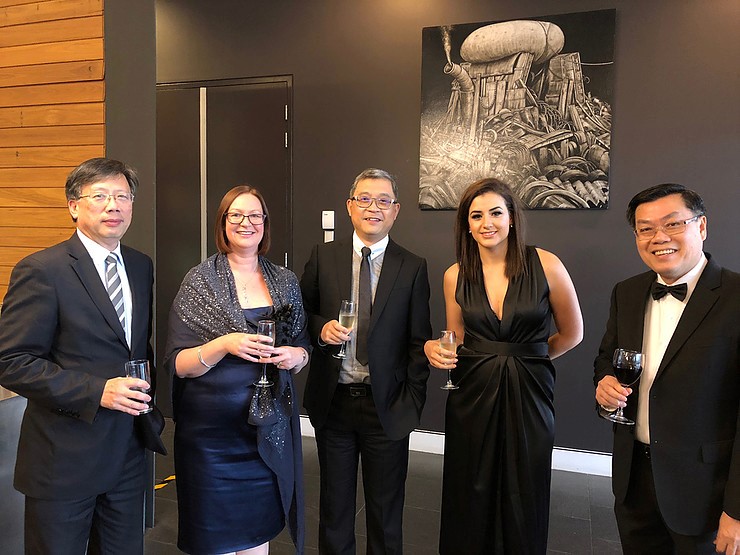 In Australia, Professor Tuan Nguyen is a Fellow of the Garvan Institute of Medical Research and heads the Genetic Epidemiology of Osteoporosis laboratory. He holds three professorial appointments, including Professor of St Vincent's Clinical School, the University of New South Wales, Professor of Predictive Medicine at UTS School of Biomedical Engineering; and Professor of Epidemiology and Biostatistics, School of Medicine, University of Notre Dame Australia. He was a Fellow of the Australian National Health and Medical Research Council. He holds the prestigious Fellow of the American Society for Bone and Mineral Research. 
In Vietnam, Professor Tuan Nguyen holds visiting appointment as Distinguished Research Professor and  Co-director of Bone and Muscle Research Group. He also serves as a  Senior Scientific Advisor of TDTU, Vice-Chairman of TDTU Board of Science and Training, and Chairman of the Committee for Research Ethics of TDTU. 
Professor Tuan Nguyen's contributions to osteoporosis have been wide ranging, and have included fracture risk assessment, translation of genetic discoveries, and aetiologies of osteoporosis.  His research laboratory discovered several genes that are linked to osteoporosis. He invented the world first tool for fracture risk assessment. He is a prolific scientist, having authored or co-authored about 300 publications in prestigious international journals, especially leading journals as British Medical Journal, JAMA, New England Journal of Medicine, Lancet, Nature, Nature Genetics, Nature Rev Endocrinology. 
Professor Nguyen's work have generated a great deal of interests from colleagues around the world, and in many aspects, have been highly influential. He has 50 papers with more than 100 citations, including 10 papers with more than 400 times and 2 papers with more than 1000 citations. Overall, his publications have been cited >24,000 times by other authors. His careerwise H index is 76, and his last five-year index is 50. He is one of the highly cited scientists in the field of osteoporosis and medicine.
He is an Associate Editor of the Journal of Bone and Mineral Research which is the #1 journal in the field of osteoporosis. He is also on the editorial board of high-ranking ISI journals such as Journal of Bone and Mineral Research, Osteoporosis International, Osteoporosis and Sarcopenia, Journal of Clinical Endocrinology and Metabolism, Journal of Bone and Mineral Research, JBMR Plus, Journal of Endocrine Society. He is an expert reviewer for prominent journals such as New England Journal of Medicine, Nature, Science, JAMA, Lancet, and BMJ. 
In Vietnam, over the past 15 years, he has given lectures in more than 20 workshops nationwide. These workshops have attracted more than 2000 doctors and scientists nationally. Apart from training, he has actively participated in research in Vietnam. Over the past 20 years, he has either conducted or helped medical colleagues conduct many studies in Vietnam, and these studies have resulted in more than 50 peer-reviewed publications in leading journals in the world.  His work in Vietnam included osteoporosis, obesity, diabetes, and infectious diseases. He was the first Vietnamese scientist who published papers in peer reviewed journals on the effect of Agent Orange on birth defects. 
Socially, he has published 10 books on science, medicine and education. He has received many awards from the Vietnam Minister for Foreign Affairs, the Medical Association of Ho Chi Minh City, the Osteoporosis Society of Ho Chi Minh City, and the Vietnam Endocrine Society.