TDTU - 30/07/2018 - 5:29pm
The continuous economic growth in Vietnam's major metropolitan areas has caused many environmental consequences, especially solid waste. Due to its persistent property and long-term viability, plastic waste (bottles, glasses, plastic bags, food containers, etc.) along with other solid wastes has become a major challenge for the community and society because its environmental degradation directly threatens the sustainable development.
According to the Center for Consultancy on Sustainable Development, plastic waste accounts for about 16% of the total of 1.2 kg daily waste per person [Quach Thi Xuan, 4/2018]. In reality, the Reduction, Reuse and Recycling of plastic waste are still on a theoretical basis or model, which has not been actualized with specific and sustainable environmental protection in large urban areas such as Ho Chi Minh City (HCMC). The difficulty of socializing this activity comes from poor awareness, lack of self-awareness of the majority of people, especially young people in the responsibility to protect the general environment of the city.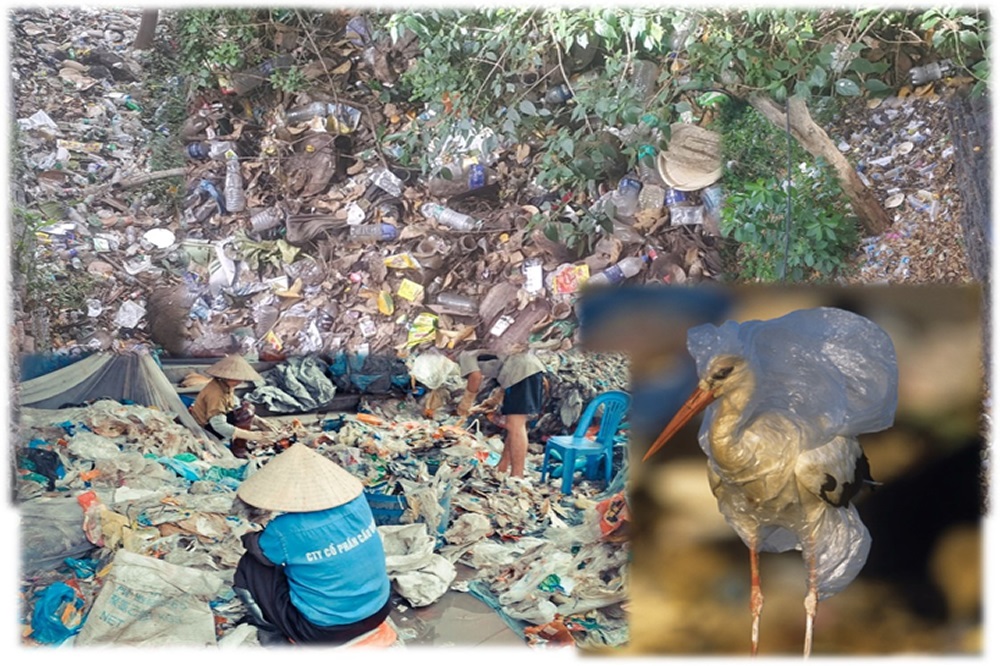 At Ton Duc Thang University (TDTU), the proposal and implementation of useful initiatives for environmental protection and sustainable social development which demonstrates the spirit of service for the community are the responsibility of the lecturers and students. In order to raise awareness and encourage the scientific research movement, lecturers and students of the Faculty of Environment and Labour Safety have started researching plastic waste recycling, building the model of operating recycling activity in direction of sustainability which can be applied in Ho Chi Minh City. The first phase involves the formation and development of a sense of minimization of solid waste load. The next phase is the period of developing habit and self-conscious in sorting plastic waste at the source with the participation of all students, and the final phase is the research process and selection of effective and sustainable solutions for recycling plastic waste into useful products.
The specific solution was implemented by the Faculty of Environment and Labour Safety in students' scientific research, academic year 2018-2019. The ideas for detailed implementation are guided as follows:
Step 1: "Waste-to-Worth Attention Booths" : Organizing the exchange of plastic utensils, packaging and bottles at the place of supply for purchases discount to enhance the sense of environmental protection and reduce waste in the community.
Step 2: "Awareness campaigns and workshop" : organizing widely awareness campaigns on collecting and recycling plastic waste.
Step 3: "Long-term projects" : implementing projects to socialize the plastic waste recycling by using plastic waste to produce energy, using enzymes to accelerate the process of biodegradation of plastic waste.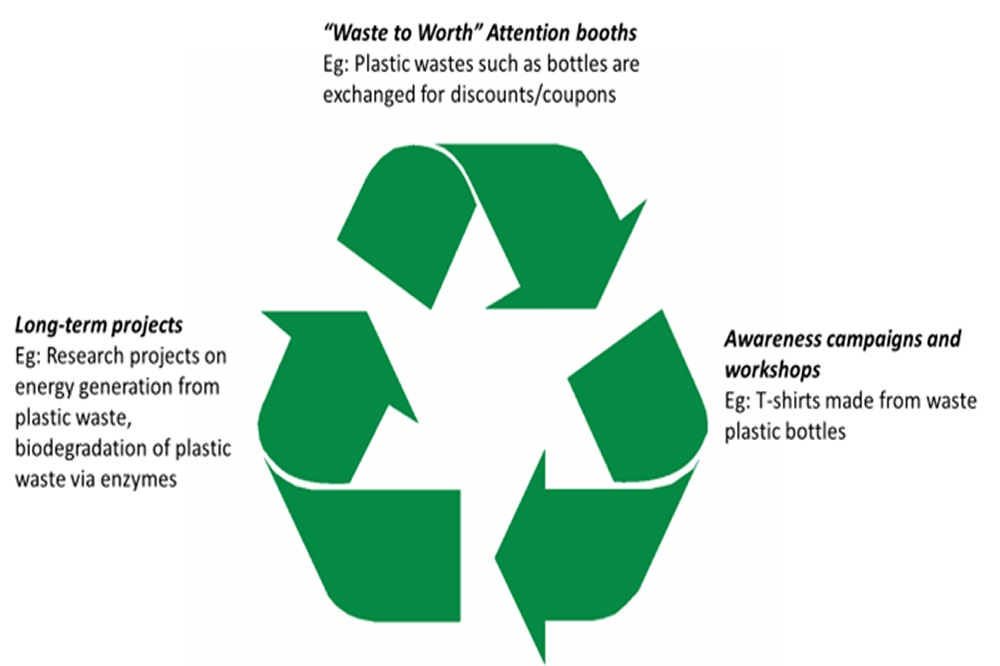 The implementation of these ideas in Ho Chi Minh City has contributed to building Green City and green university for TDTU; to directly protect the environment and strengthen sustainable development in the future.